How to save money and go greener with a Nest Learning Thermostat
Did you know your thermostat controls 60% of your heating bills - and also has a big part to play in how much of an impact your home makes on the planet? If you want to enjoy a comfortable home for less this autumn and reduce your carbon footprint at the same time, why not make the switch to a Nest learning thermostat.
The easy to use 'planet protector'
There are many simple steps you can take to protect the planet - and using the Google Nest thermostat is one of them. Since 2011, it is estimated that it's saved over 39 billion kWh of energy worldwide, while UK households using Nest technology have seen energy savings of 8.4% to 16.5%.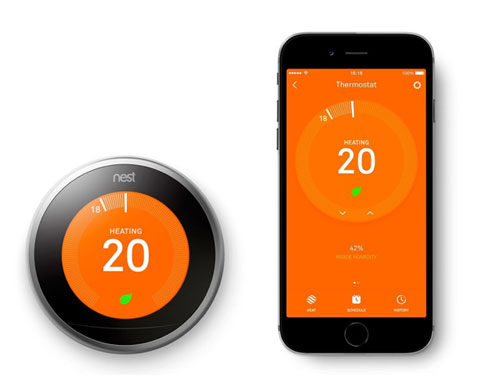 The thermostat that teaches itself
Unlike a traditional thermostat that you set manually, the Nest learns from you and programs itself. Simply change the temperature whenever you like during the first few days after it's been installed and it will get to know the temperatures that you like and when you want them. Then it programs itself and creates a weekly temperature schedule. The intelligent technology adjusts itself to suit exactly how your home heats and cools and also responds to the weather outside to ensure the perfect level of comfort 365 days a year.
Learn how to save energy at home
A Nest thermostat also shows you how to save energy when you're home. Each time you adjust your thermostat to an energy-efficient temperature, you'll see the Nest Leaf on the thermostat screen and in the Nest app.
As you learn more about how and why you've saved energy with your Nest thermostat, you can keep up your good habits and make simple changes to be more efficient.
Save energy while you're away
The innovative Nest thermostat even looks after your home when you're not there. In addition to learning a temperature schedule, your Nest thermostat will automatically switch to a custom Eco Temperature when you're away. And when you come back, it will switch back to your scheduled temperature. You don't even have to remember to change the temperature as you come and go - the Nest thermostat does it for you.
The Nest Learning Thermostat should be installed by a professional. As your trusted local Nest Pro installer, we will install it in the optimum location, connect the Heat Link and set it up for you to make the transition effortlessly. Discover how you can transform your heating today. Call D.R. Plumbing & Heating on 01978 291 923 / 01352 620 125.
We accept all major credit cards