Vaillant Gas Boilers
With over 145 years of experience in heating and hot water products, Vaillant's commitment to manufacturing and forward-thinking technology has led to them being awarded Which? best buy status for another year running - and there are plenty more reasons to choose Vaillant too. When you choose Vaillant, you choose quality and reliability. At D.R. Plumbing and Heating, we are a trusted Vaillant Advanced Installer with over ten years of experiences, covering Wrexham, Mold and the entire North Wales area.
UK Manufacturing at its best
Vaillant is a brand you can really depend on to keep you in your comfort zone. All Vaillant gas boilers are designed with the planet and your pocket in mind. Unlike many other manufacturers, each of their boilers is hand-assembled by one person from start to finish in their UK based manufacturing plant in Derbyshire.
Vaillant continue to receive awards year after year for sustainability, quality and safety and are focused on ensuring that their boilers are produced in the most sustainable way possible whilst maintaining high levels of quality. Each boiler undergoes over 900 quality checks before shipping, to ensure they are reliable and dependable. That's comforting.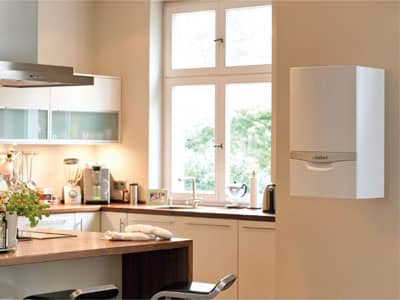 An Award-winning boiler range
Vaillant gas boilers enjoy excellent ratings from customers on Trustpilot. Their entire domestic boiler range has also been awarded; Which? Best Buy status, while their boilers are so quiet in operation that, they've also obtained Quiet Mark accreditation from the Noise Abatement Society.
Enjoy 10 years' peace of mind
With 10-year guarantees*, Vaillant offer high quality and reliable boilers for almost every home that give you complete peace of mind.
The boiler of the future
Vaillant have introduced the Green iQ badge to set benchmarks for outstanding quality and to ensure that they deliver products that have the highest efficiencies and the lowest carbon footprint. Green iQ also means our products are sustainable being more than 85% recyclable and are engineered to be networked for the future. The Green iQ range combines smart technologies and leading design features to provide great performance and reduced energy bills. The ecoTEC exclusive with Green iQ boiler range intelligently manages energy consumption and output. This ensures the components of each boiler only work as hard as they need to ensure optimum performance. As a result, components will therefore last longer and be more reliable, reducing overall maintenance costs.
To find out more about Vaillant boilers for your home, call D.R. Plumbing and Heating today on 01978 291 923 / 01352 620 125.
We accept all major credit cards