What to expect when you buy a new oil boiler - a complete guide
If you are planning to replace your oil boiler, no doubt you have questions or concerns about what the process looks like and what's involved. To help put your mind at rest, we've put together this complete guide to having a new oil boiler fitted.
Choosing your new oil boiler
For us, the process begins from the moment that we receive your first enquiry. We pride ourselves on listening carefully to your needs and assessing your property's requirements in order to find the best possible solution. We've got over 10 years of experience working with rural properties throughout North Wales - no job is too complicated for us.
During your initial call or site visit, one of our experts will assess your current boiler arrangement and advise you of the options available. By law, all new boilers - both gas and oil - feature condensing technology to increase efficiency.
Can I move my oil boiler?
Our customers frequently enquire about the possibility of relocating their oil boiler to free up space. The good news is that in many cases it is possible to actually move the boiler outside. We recommend Worcester Bosch external oil boilers for this purpose, which are supplied as a complete, ready to go unit within an all-weather housing.
How is a new oil boiler sized?
Contrary to popular belief, when it comes to sizing your new boiler, the size of your home and the number of rooms or radiators are not the only important factor. The exact method used depends whether you are having a combination or system boiler fitted.
Oil Combination (Combi) boilers - flow rate measurement
To ensure that you get the most effective and economical oil combi boiler for your home, we use a device called a flow cup to measure the flow rate of your cold water mains. This is measured in litres/min (l/min).
No matter how powerful the combination boiler, it can only deliver hot water at the rate at which it is supplied by the mains. In other words, the boiler can't put out more than is put into it. If your could water mains supply is 10 l/min, this is the most the boiler can put out. So if you fit a 15 l/min boiler, it could only output 10 l/min and you would not be using it to its full capacity. Installing a larger boiler would be like owning a performance car but only driving in a 30 mph limit - you wouldn't be able to benefit from the extra power.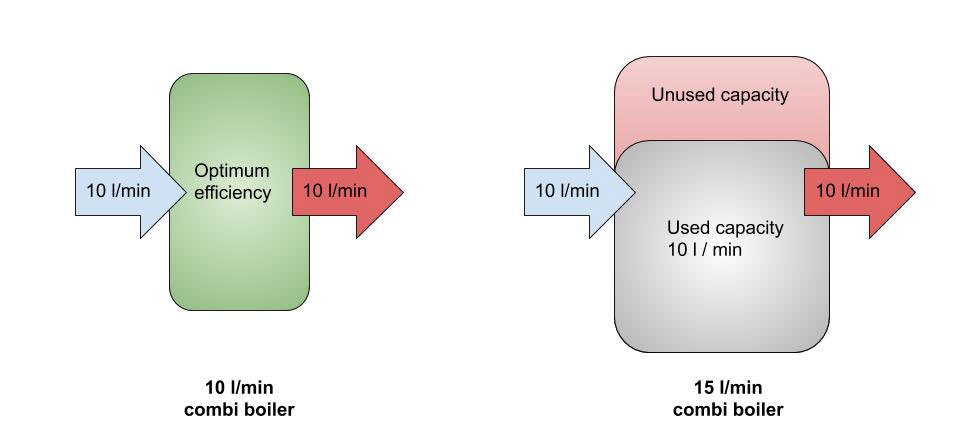 Intelligent range rate for condensing technology
Although all new boilers are fitted with condensing technology, which helps to recycle the heat in the flue gasses, this process only takes place if there is a temperature difference of more than 20? on the central heating.
New boilers are fitted with intelligent technology that is able to optimise what is known as the heating curve in order to maintain this difference. The control program auto-balances your system to ensure the best possible performance. This will be configured when the system is commissioned.
Removing the old boiler
Once we have properly sized your new oil boiler, our first job will be to remove the old boiler from your home. If you are having an external boiler fittted, we'll need to drill a new all-in-one hole. The previous holes left by existing flues and pipework will be filled once these are removed. We pride ourselves on doing a proper job when it comes to filling holes, making every effort to restore brickwork to its original appearance where possible.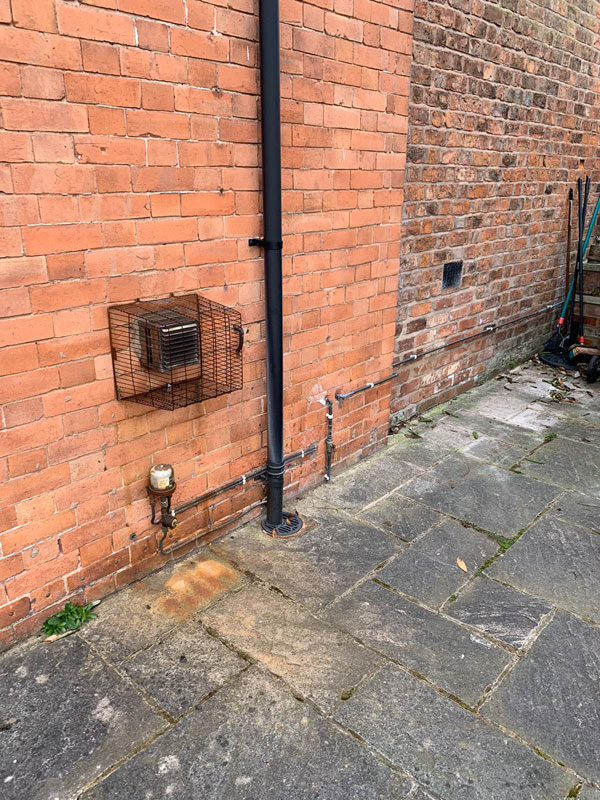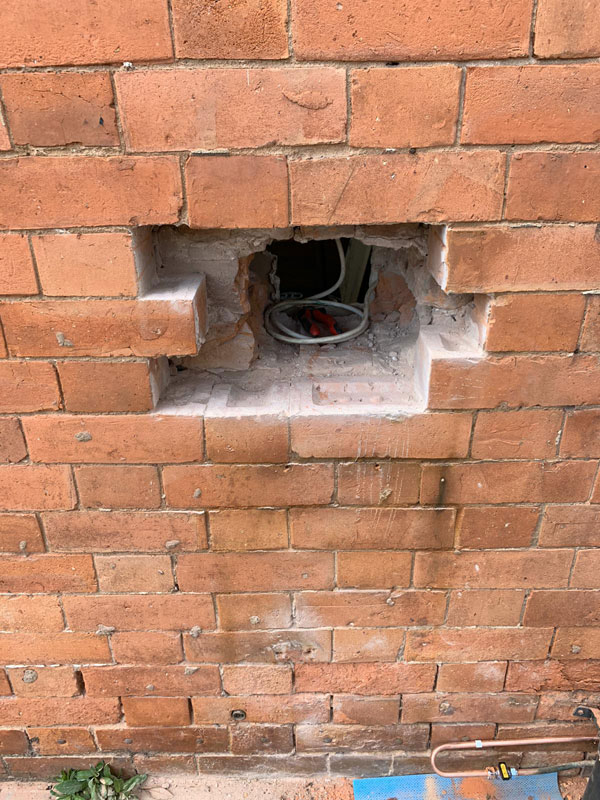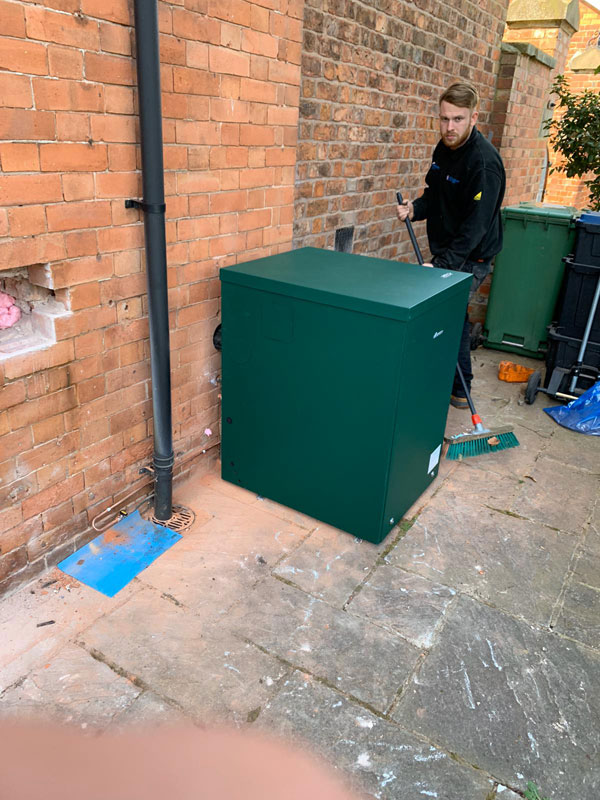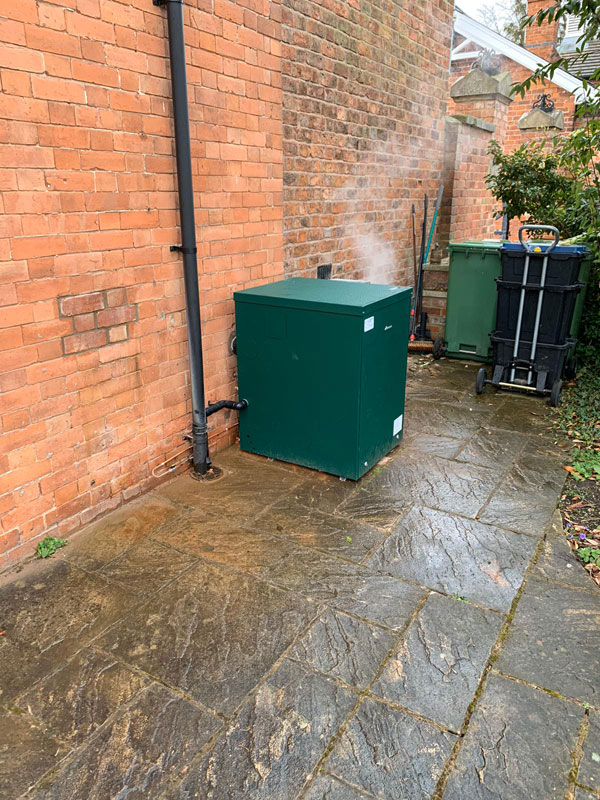 We'll also install a completely new oil line complete with the most up to date features to protect you, your home and your boiler. This includes an isolation valve and filter, as well as the mandatory fire valve. We don't need to replace your underground pipe, So don't worry about us digging up your garden. Due to the insulating nature of the housing on an external boiler, the new fire valve will be sensitive to temperatures exceeding 85? in order to reduce the inconvenience of it being triggered unnecessarily.
What is a fire valve?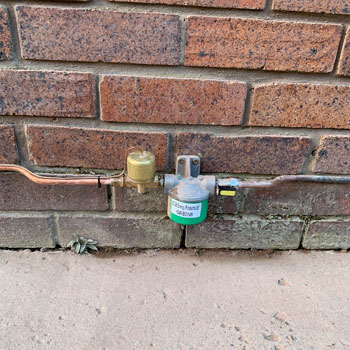 An oil line fire valve is a legal requirement for any oil boiler. It is a special heat-activated valve that cuts off the oil supply to the boiler in the event of an excessive temperature being detected. This means that in the unlikely event of a fire occurring within the boiler, the fuel supply to the boiler will be cut off, preventing further fuel being supplied to the boiler, and also eliminating the risk of fire reaching your oil storage tank.
System Flush
With the old boiler completely removed and the new boiler in place, the next step is to perform a complete system flush. A special device called a Magna-Cleanse used along with an additive that is designed to break down the black magnetite (a form or rust) that builds up in a heating system. This is fitted before the boiler return, to prevent the corrosion from being able to reach your new boiler. For a thorough clean, we also use an agitator on each radiator. This is a special tool that shakes corrosion from your central heating system.
The corrosion in caught in the magnetic filter allowing for it to be completely removed. This means that your entire system is fully cleansed before your new boiler begins working, meaning that you will get the very best efficiency out of your system and the maximum protection for your new boiler.
Once the system flush has been completed, we'll remove the Mag-Cleanse, but we'll fit a magnetic filter for you to help maintain a healthy system and add inhibitor which helps to prevent corrosion forming. For external boilers, this is fitted within the boiler housing.
Installing plume flue kit
Depending on the location of your new boiler, it may be recommended or required to fit a plume flue kit. This is used to reposition the flue opening at a suitable height to satisfy legal requirements and also avoid undesirable condensation plumes where they are not wanted or can cause a nuisance. We always use approved plume kits that comply with all OFTEC safety and building regulations.
Fitting the condensate pipe
Because of the condensing technology in your new boiler, it will also be necessary to fit a boiler condensate pipe, a plastic pipe which connects to your nearest drain. For internal fittings, this will be 21.5mm diameter, whilst external condensate pipes will have a diameter of 40mm to help prevent freezing.
Why does my condensate pipe have a missing section?
In order to prevent external boiler condensate pipes from freezing, a 10mm air gap is always left. To the unfamiliar eye, this may look like the pipe has not been finished - don't worry, it is exactly how the system is meant to be and helps prevent your boiler from stopping in cold weather.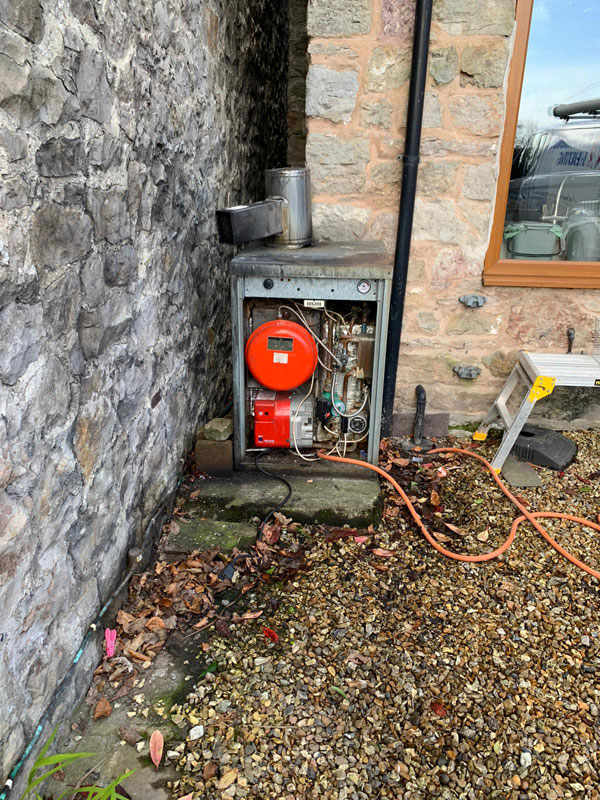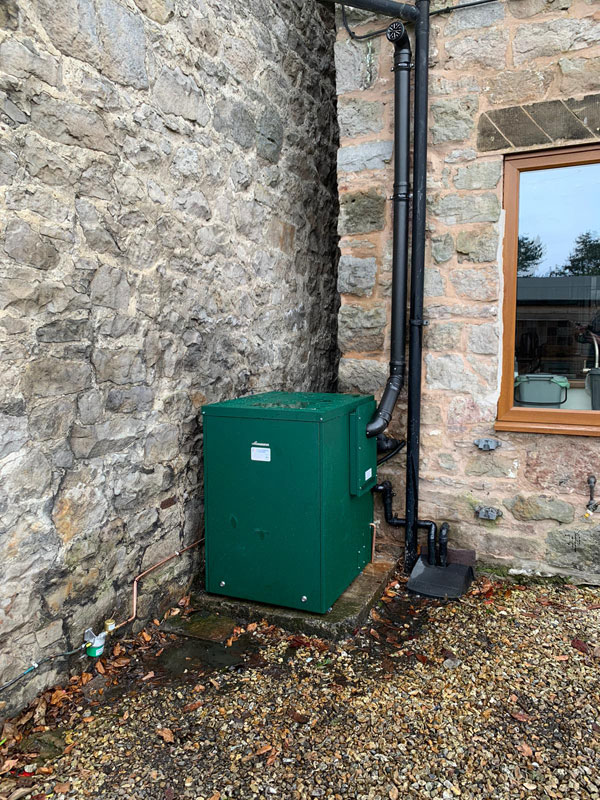 Setting up your controls
When you are choosing your new boiler, you will have a choice of using the standard manufacturer's controls or opting for smart controls. If you would like smart controls, we recommend the Nest system which is easy to use and fully compatible with Worcester Bosch oil boilers. We are recognised as a Nest Pro Installer.
If you use the manufacturer's controls, they will be covered for the entire duration of the boiler guarantee. Smart controls will be covered by their own warranty, separate to the boiler.
Whichever controls you choose, we will take the time to go through the set up with you to ensure that you are completely confident in operating your new boiler.
Registering your guarantee
To ensure that the guarantee for your new boiler is properly registered, we will upload the details directly through the installer portal. For Worcester Bosch oil boilers, you can enjoy a guarantee of up to 7 years. For added peace of mind, we'll also set up reminders so that you are alerted in good time when your annual service is due.
Registering your installation
A building control notice is required whenever a new boiler has been installed, confirming that your boiler has been fitted in accordance with all OFTEC regulations. This is an extremely important document that homeowners should keep in a safe place. We will look after the registration for you and send you your documentation directly.
Whilst we are able to arrange replacement documentation if necessary, we advise you to do everything possible to ensure that you retain the original documents for your own convenience.
You can also check your Worcester Bosch boiler is guaranteed online here
Follow-up check
We want all of our customers to enjoy maximum comfort and convenience from their new boiler. To ensure that everything is in order, we'll get in touch with you for a follow-up check after a couple of weeks. If you have any questions or concerns at this stage, don't hesitate to ask.
Annual servicing
Whether or not you choose us to look after your annual boiler servicing, we'll ensure that you get an automatic reminder in plenty of time. If we do conduct your service, a full record and service report will be uploaded to the manufacturer's system and also retained in our systems.
This means that you have a complete history should it be required in the future, just like the service history for your car. We'll also make sure that our contact details are on hand should you ever need help or advice.
Fitting boilers whatever the weather
Finally, we are often asked if the weather could delay your new oil boiler from being fitted outside. You'll be pleased to know we are fully equipped with all the gear we need to install your new oil boiler safely whatever the weather.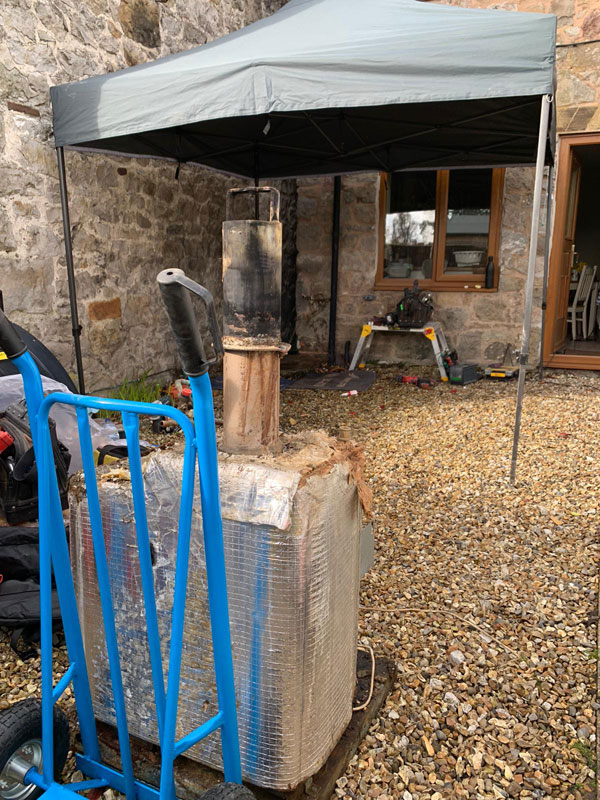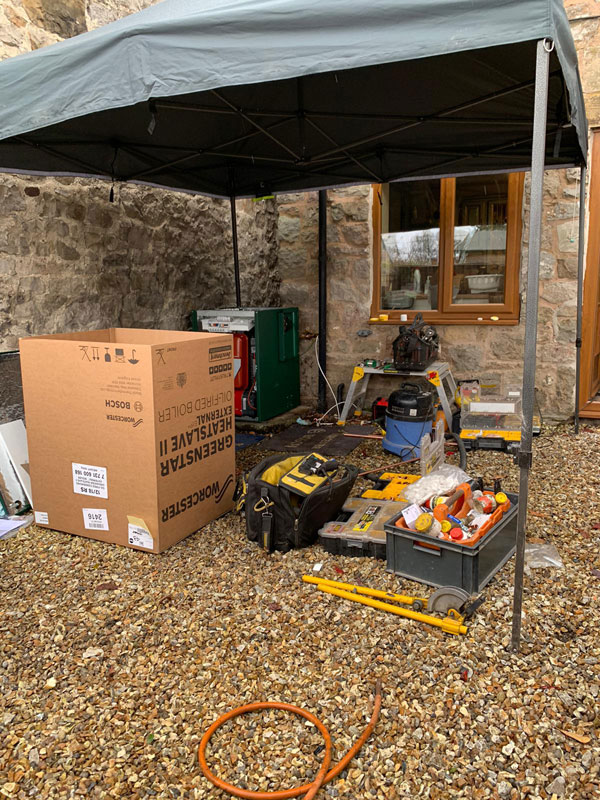 We accept all major credit cards